Oh how I love Christmas decorations...I don't particularly care for putting them up or taking them down but I love enjoying them during the season. The house just seems warmer, cozier, full of more love, when all the decorations are up. I love the glow we get at night, I rarely have the other lights on during this time of the year. It has been a fun year so far. Sebastian is 3 and this is his fourth Christmastime...I feel like he is finally of the age to care about everything and kind of know what is going on. He actually wanted to write a letter to Santa this year and he knew to ask for one gift he really wanted. He was also happy to go see Santa and tell him what he was hoping for on Christmas morning.
He is understanding more and more of the different traditions which in turn makes the whole season more fun. We talk about the fact that it is Jesus' birthday and the need to do nice things for other people and remembering baby Jesus.
Just in case you didn't get to see our fabulous Santa picture this year! I don't know why these are
sideways, they are fine on my computer and I cannot get them corrected in Blogger.
Paisley is a year old and not quite sure about everything going on but she is intrigued. She just can't help but touch every ornament on the bottom of the tree and re-arrange them all for me. She has opened a gift or two..testing my wrapping skills I guess.
Milo is just enjoying all the pretty lights. I was really good this year and got my shopping done early...I did a lot online. It is hard to drag these three munchkins through the store and hide gifts from them as we check out. We found inspiration at the store and then I went home to purchase, I love all the places with free shipping, like Target!
So, here is a quick breakdown of what Santa is making at his workshop for my babies:
Sebastian specifically asked for the Doggie Game and if you ask him what he wants from Santa he will tell you, "The Doggie Dame" so Santa is bringing him one of those, thank you so much to the wonderful, disgusting person who created this game and advertised it on every station, all day long!
He also has a great interest in firetrucks (thanks to Rescue Bots) so I found a really neat firetruck that transforms into a city.
I think he will enjoy playing with both of these! Mommy and Daddy got him a few Transformer Rescue Bots toys. If you have young boys you should look into this series, very cute...all about helping people in emergencies and not so childish that the voices get aggravating (you know what I'm talking about).
Paisley is all into baby dolls right now and although she has plenty of dolls to play with, she doesn't have any doll accessories. Therefore, Santa is bringing her a changing table/crib for the new Itty Bitty American Baby Doll he is also delivering.
Mommy and Daddy are getting her a few Frozen themed toys as that has recently become her obsession!
Milo is getting a new dangling toy for his carseat, I am sure he will love it, Santa.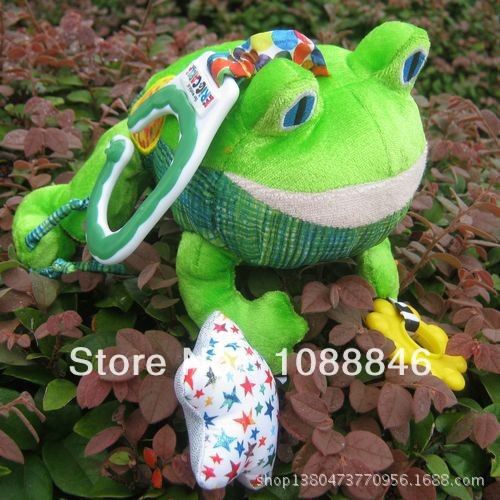 He will be upgrading to a rear facing convertible car seat in January or February (I can't keep carrying the chunky monkey in his infant carrier) which will cost a pretty $350, so it will be a late Christmas present. The only reason I like keeping them in the infant carrier is if they are sleeping they can easily be moved. Milo wakes up if his seat so much as gets tapped so there is no benefit anymore. We have bought about 4 convertible car seats so far and I highly recommend the Chicco Nextfit. Paisley got hers when she moved out of her Infant carrier and it has been the best! I have never had the problem of her head bobbing all over the place, for some reason it is at an angle where her head never falls forward. Sebastian has a Graco convertible and his poor head never stays up, no matter how much we recline it. I wish I could get him one like hers but its just too expensive to switch after already buying the other one. We won't make that mistake with Milo, spend the money and get the good one.
I would love to tell you what Santa is bringing Jonathan...COAL...but he does OCCASIONALLY read my blog so I don't want to spoil it for him. I am hoping Santa will help me grow my herbs all year long with an Aero Garden :)
There always seems to be one unhappy one.
It is very fast approaching, which makes me kind of sad cause it will be over before we know it but I am happy to say all my shopping and wrapping is complete.
Or two!
Hopefully, you are all having a relaxed final weekend before Christmas! I am ready to have a fun-filled, memory overloaded, Christmas morning with my three little angels!